VIEW FROM BENEATH
VIEW FROM BENEATH
VIEW FROM BENEATH
VIEW FROM BENEATH
VIEW FROM BENEATH
VIEW FROM BENEATH
HIGH WATER
HIGH WATER
HIGH WATER
HIGH WATER
HIGH WATER
HIGH WATER
HIGH WATER
HIGH WATER
HIGH WATER
HIGH WATER
HIGH WATER
HIGH WATER
HIGH WATER
HIGH WATER
HIGH WATER
MORPHOGENESIS
MORPHOGENESIS
MORPHOGENESIS
MORPHOGENESIS
MORPHOGENESIS
MORPHOGENESIS
MORPHOGENESIS
MORPHOGENESIS
MORPHOGENESIS
MORPHOGENESIS
CLOUD POINT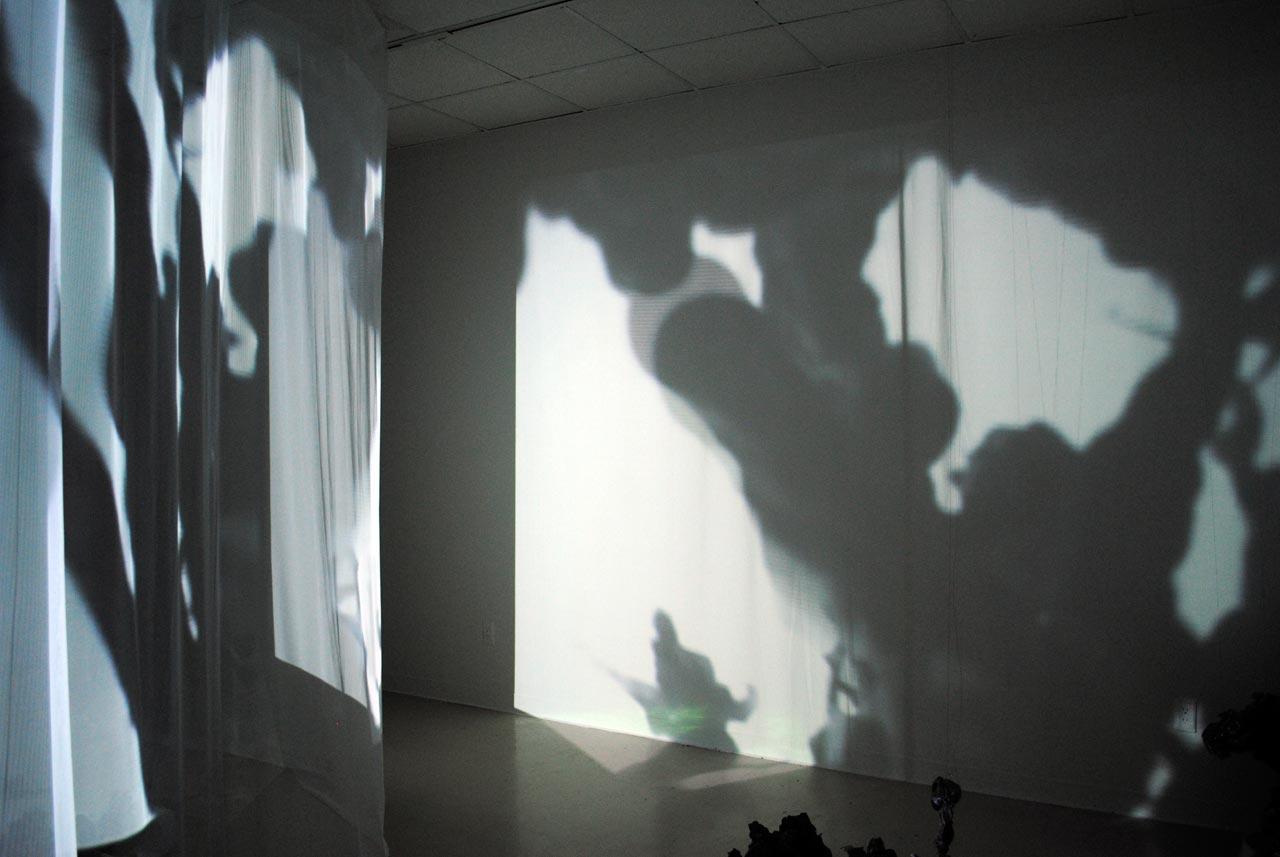 CLOUD POINT
CLOUD POINT
CLOUD POINT
CLOUD POINT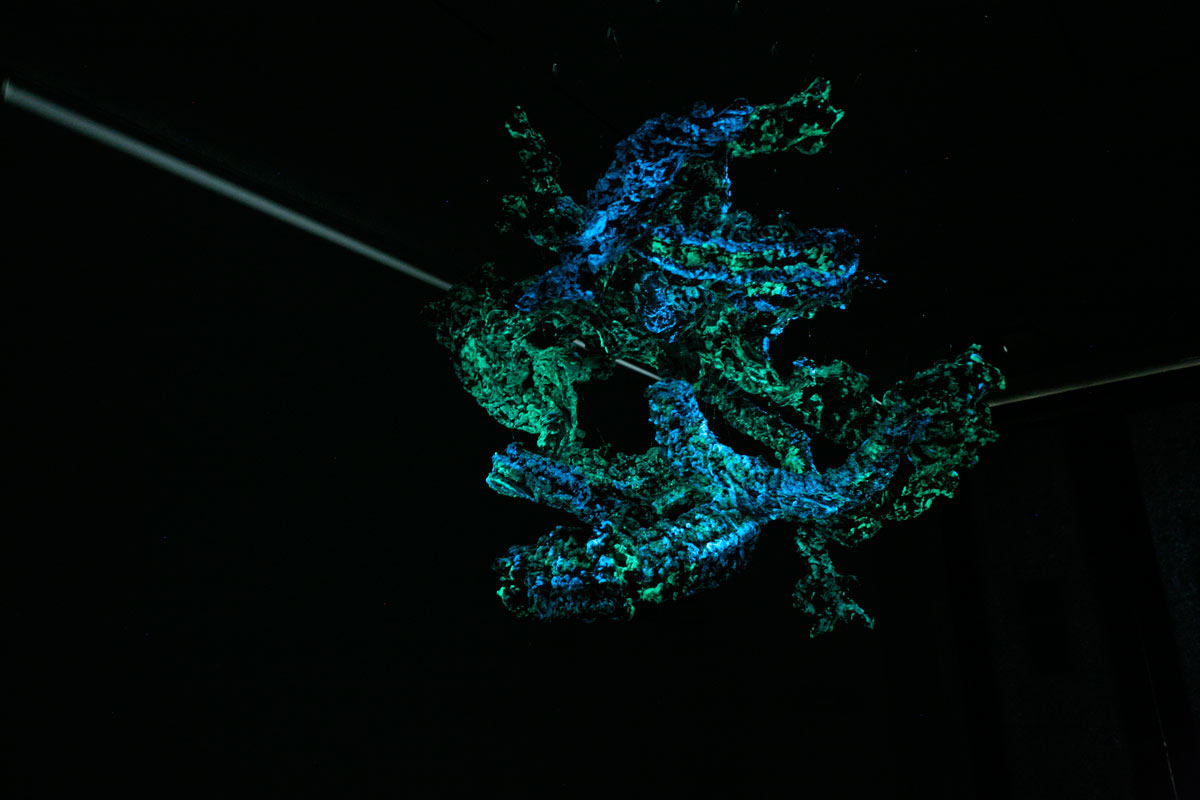 CHANGING PHASES
CHANGING PHASES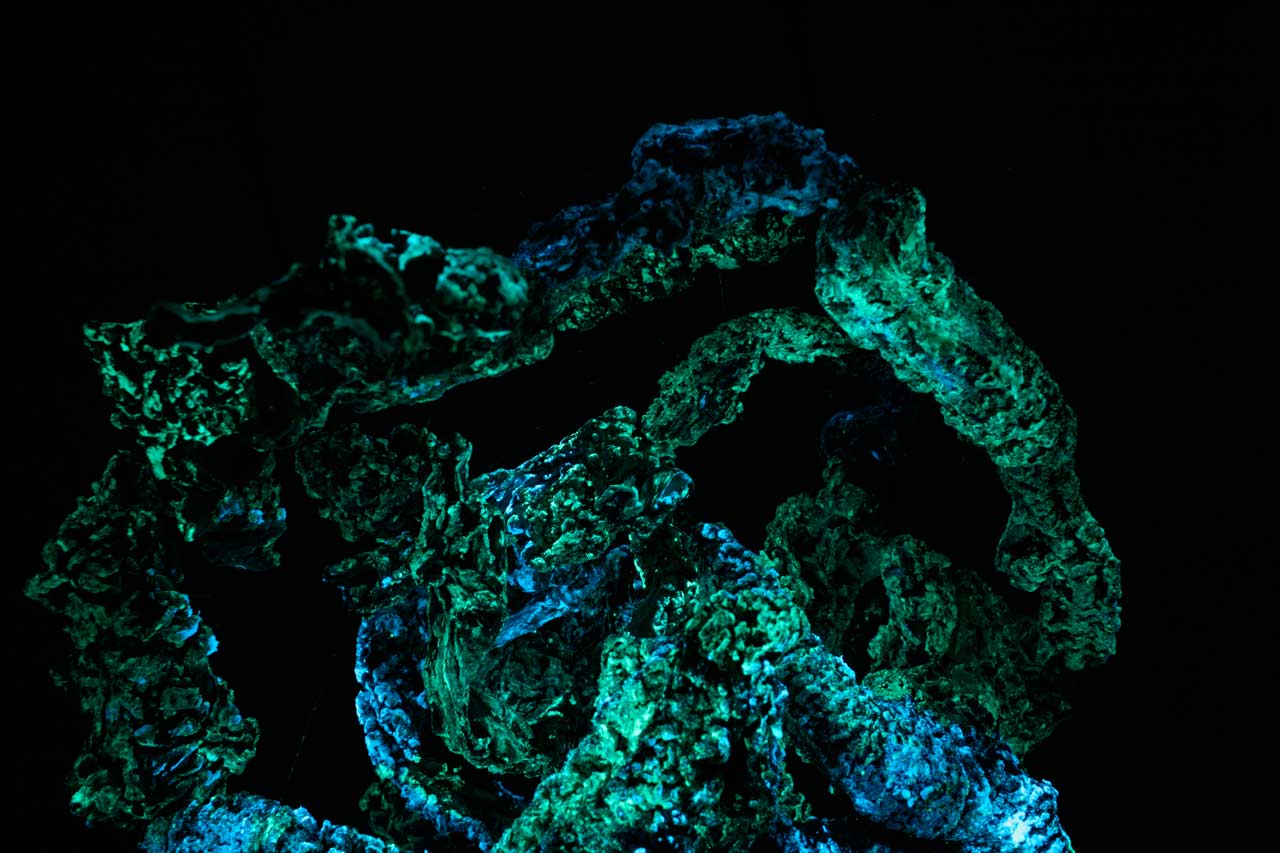 CHANGING PHASES
CHANGING PHASES
CHANGING PHASES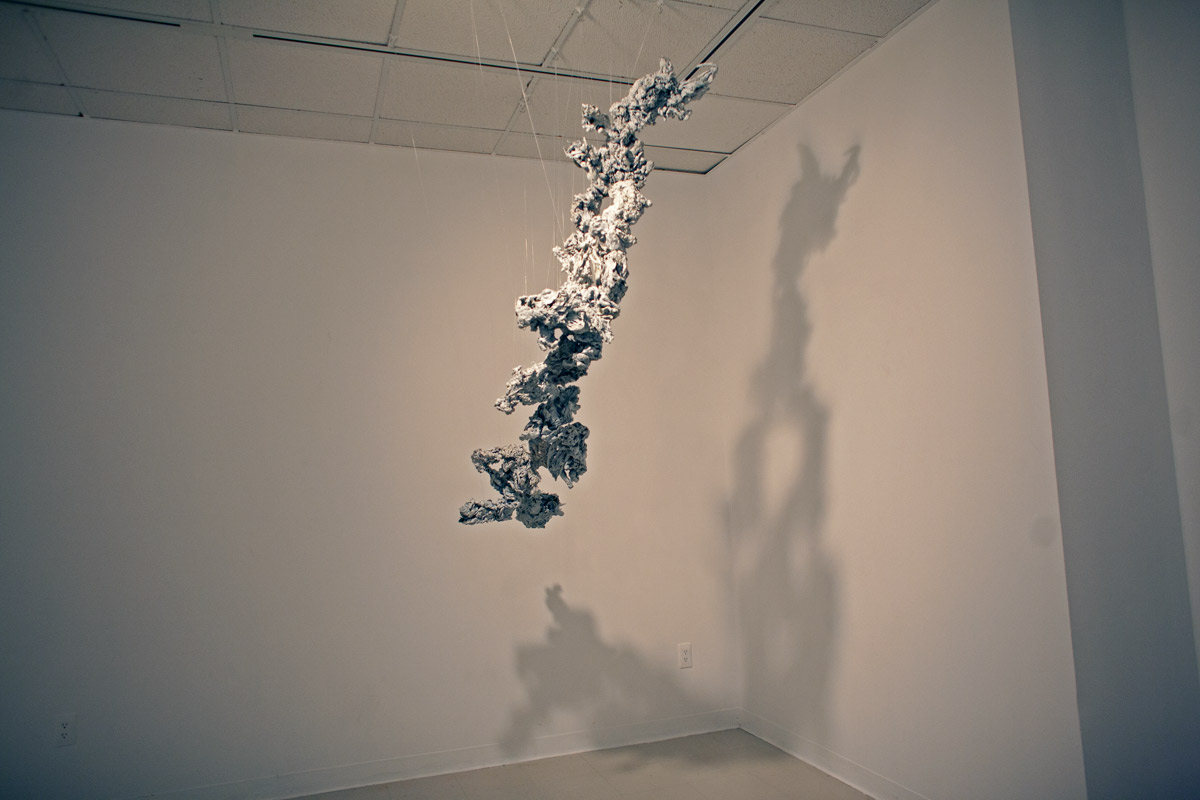 CHANGING PHASES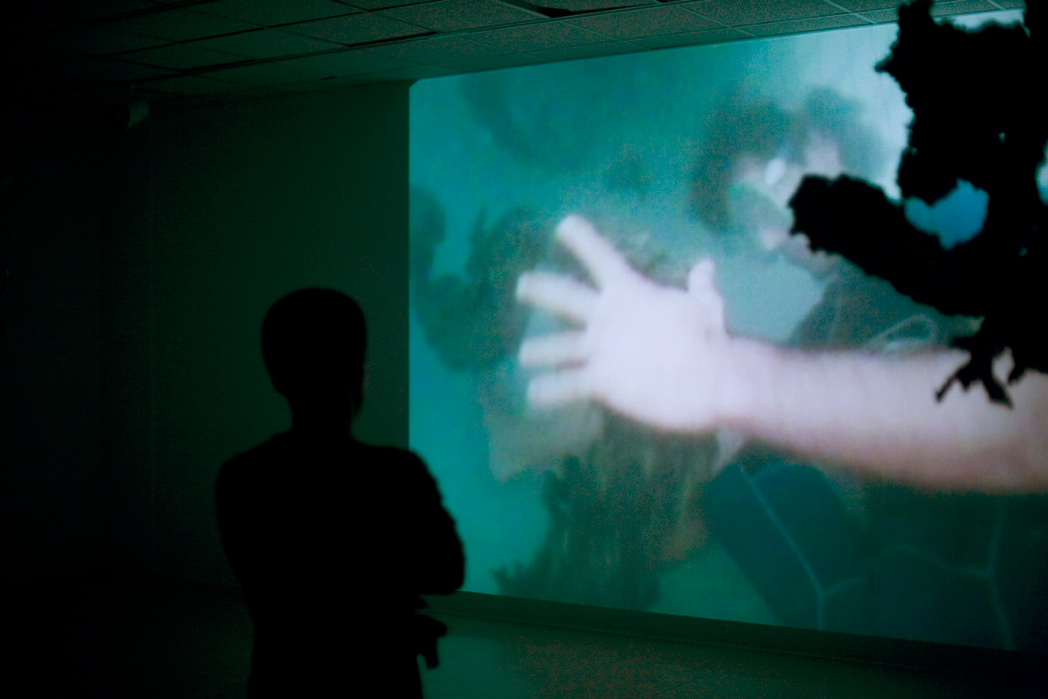 CHANGING PHASES
CHANGING PHASES
VIEW FROM BENEATH
EXHIBITED IN RECENT GROUP SHOW ALL IN: SWIMMING THE GOWANUS AT SITE:BROOKLYN GALLERY, THIS MULTIMEDIA INSTALLATION SHOWCASES MY UNDERWATER WAX EXTRUSION PROCESS. THROUGH VIDEO, PHOTOGRAPHY AND SCULPTURAL FORMS, VIEWERS GAIN INTIMATE ACCESS IN TO THE ARTISTIC PRACTICE. SUSPENDING THE WAX RESIDUES ON AN OVERHEAD FLOATING GLASS CEILING REFLECTS ON THE FORMS' GENESIS AND MANDATES THAT VIEWERS LOOK UP TO EXAMINE THEIR COMPLEXITY AS I DO WHILE CREATING THEM.
HIGH WATER
INSTALLED IN TWO VARIATIONS OVER A FOUR MONTH PERIOD AT SPECTRUM, AN ALTERNATIVE MUSIC/ART SPACE ON THE LES, THIS KINETIC WORK IS AN EXPLORATION IN FLUID MOVEMENT OF LINE THROUGH SPACE. VINYL TUBING SUSPENDED FROM THE CEILING CREATES A CLOSED CIRCULATORY SYSTEM TRANSPORTING FLUORESCENT FLUIDS FROM ONE END OF THE SPACE TO THE OTHER. REFERENCING THE HUMAN BODY AND ITS MANY DIFFERENT RELATIONSHIPS WITH FLUIDS, THIS WORK CREATES A FANTASY FLAVORED AUDIO-VISUAL PLAYGROUND AS VIEWERS GAZE UP AT THE FLUCTUATING COLORS, SOUNDS AND SHADOWS CREATED BY THE LIQUIDS FLOWING THROUGH IT. AS THE PIECE WAS REMOTE CONTROLLED AND PRIMARILY SHOWCASED IN THE DARK DURING SPECTRUM'S LIVE MUSIC EVENTS, THE GLOWING FLUIDIC MOVEMENT ECHOED THE RHYTHMIC PULSATIONS OF THE AUDIO PERFORMANCES.
MORPHOGENESIS
INSTALLED AT THE STALLER CENTER FOR THE ARTS FOR MY MFA THESIS EXHIBITION, THIS MULTIMEDIA WORK EXAMINES MY UNDERWATER WAX EXTRUSION PROCESS THROUGH MANY DIFFERENT LENSES. SHIFTING IN SCALE FROM THE MICRO TO THE MONUMENTAL, THIS INSTALLATION COMBINES LARGE SCALE SCULPTURAL FORMS ALONGSIDE VIDEOS OF PROCESS FOOTAGE FROM THEIR EPIC BACKYARD PRODUCTION UNDERTAKING JUXTAPOSED WITH PRISTINE, HIGH-SPEED MICROFLUIDIC LAB FOOTAGE OF THIS SAME MATERIAL TRANSFORMATION. CAPTURING THE FORCED COLLISION OF MOLTEN WAX AND COLD WATER AT 2000 FRAMES PER SECOND EXPOSES THE HIDDEN BEAUTY WITHIN THESE EVENT-BASED SCULPTURES.
CLOUD POINT
THIS SCULPTURAL VIDEO INSTALLATION OFFERS VIEWERS A SENSORIALLY IMMERSIVE EXPERIENCE. USING LIGHT, SOUND, WATER AND SCRIM TO CREATE A LIMINAL SPACE FILLED WITH SHADOWS AND REFLECTIONS, THE VIEWER IS TRANSPORTED TO AN ALIEN LANDSCAPE. PROJECTIONS AND REFLECTIONS OF RIPPLING WATER DANCE THROUGHOUT THE SPACE BUT THE VIDEO FOOTAGE OF THE WAX MORPHOLOGIES IS DEVOID OF ANY DIRECT HUMAN CONTACT. ALTHOUGH MY FACE AND BODY ARE CROPPED OUT, THE BUBBLES SEEN AND HEARD FROM MY AIR SUPPLY SUGGEST THE PRESENCE OF LIFE. CHALLENGING THE PERCEPTION OF BOTH SPACE AND TIME, THIS INSTALLATION CREATES A SURREAL AND MEDITATIVE SPACE AKIN TO MY UNDERWATER WORK ENVIRONMENT.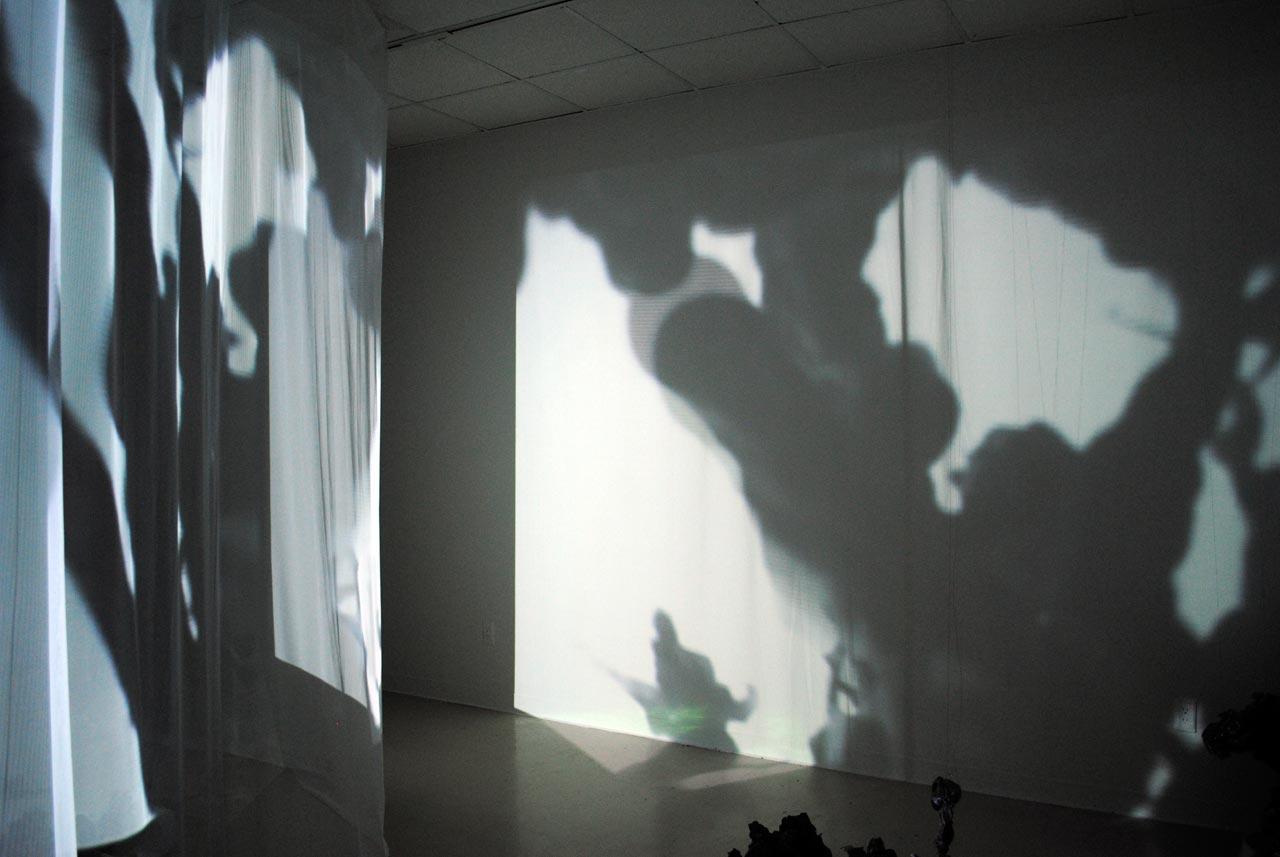 CHANGING PHASES
AS THE PREMIER DEBUT OF MY UNDERWATER WAX EXTRUSION PROCESS, THIS INSTALLATION FOCUSES PRIMARILY ON PROCESS. THE FIRST SECTIONS OF THE VIDEO ARE PRESENTED IN DOCUMENTATION STYLE, HOWEVER AS THE PROCESS UNFOLDS, ITS VERY NATURE IS ABSTRACTED BEYOND THE CLASSIFICATION OF A DEFINITIVE SPACE. INITIALLY IT IS MADE CLEAR THAT I AM SUBMERGED IN A CONFINED VESSEL OF WATER, BUT AS THE FOOTAGE SHIFTS INTO NATURAL LIGHTING CONDITIONS, THE AMBIENT SUNLIGHT PENETRATING THE TRANSLUCENT PLASTIC TANK EVOKE FEELINGS OF OCEANIC DEPTH OR PERHAPS EVEN DEEP SPACE.